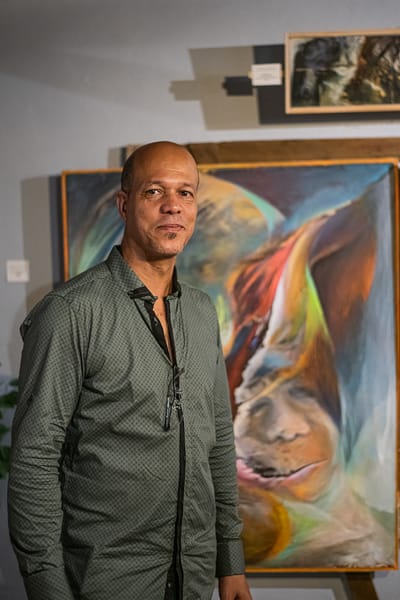 Métura Bruno
Born on the 7 of October, in Commercy (near Verdun), France of Caribbean parents, (Guadeloupean father and Martinique mother), Métura resided in Lorraine, Germany and Deux-Sevres, France before returning to the West Indies, where his desire to live in his original culture was affirmed.
Métura entered the regional school of plastic arts of Martinique. There he became the holder of a DNSEP and entered the national education system in Guadeloupe before living in French Guiana for more than 10 years. In 2006, he returned to Guadeloupe where he established himself as an educator and professional visual artist and in 2012 the Rupture exhibition marked his creative choice.
Métura's creative will is based on the observation of nature, man and his cosmogony. Through his observation, he has the unique ability by creating canvases that search of harmony in a whole, provide the visible in the multiplicity and diversity of the senses which makes it possible for the viewer to rotate and/or juxtapose the works that he has created. He thus translates both the energy and synergy that result from the worlds, and the distance to be taken in a reasoned way on their understanding of the Universe in agreement with the scales of time.
For Métura, the creation in the act of painting, is a journey into the incursion of thought; it visits the sensitive being in the manner of a hymn which initiates and wipes the space. It transmits to the viewer what it is given to them, to engage within themselves, to appreciate and recognize, their dimension of men and women.